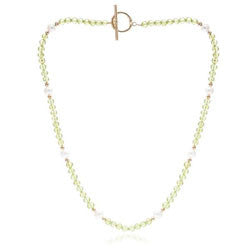 The birthstone for August is Peridot. 
Peridot: the name derives from the Arabic word faridet which means 'gem'.  This birthstone is one of only a few gemstones where it is only one colour – green.  There are many beautiful shades of green although it is believed that the deeper the colour, the more it's sought after.  Peridot's green colour is derived from the amount of iron in the stone; thus the richer the green the more iron! 
Peridot was originally sourced from Egypt but today it can be found in many different countries including the US, Pakistan, Vietnam and China.  The gemstone has often been mistaken for emeralds over the years and it is believed that some of Cleopatra's stunning green jewels were actually Peridot and not Emeralds.  The largest known peridot weighs in at 319cts and is found in the Smithsonian Institute in Washington DC.